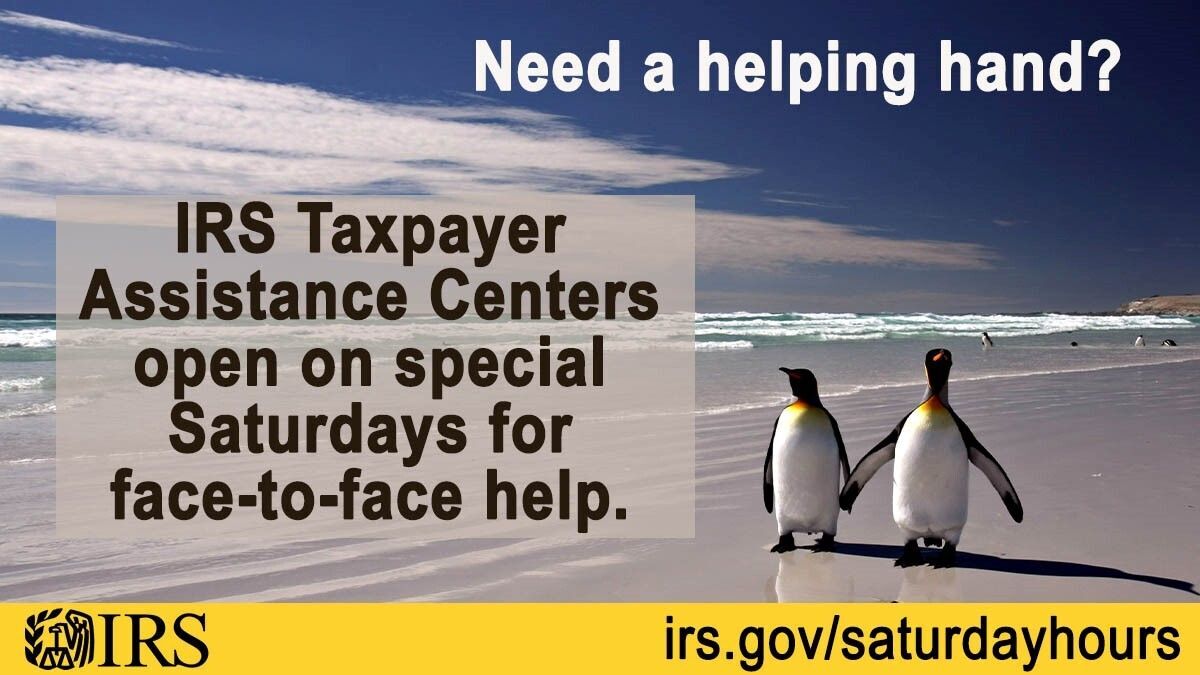 This month's event will take place on Saturday, March 11, at many IRS Taxpayer Assistance Centers (TACs) nationwide. The TACs are scheduled to be open from 9 a.m. to 4 p.m. local time to offer taxpayers additional face-to-face help with their tax issues. The TAC offices will not be preparing or filing returns, but they will be available to help with account issues and other tax matters. A number of IRS employees have volunteered to assist at the TACs and will provide referrals to local VITA/TCE sites for free tax return preparation when appropriate.
IRS Taxpayer Assistance Center
178 S Rio Grande St.
Salt Lake City, UT 84101
March 11, 2023
9:00 a.m.- 4:00 p.m.
#IRS will hold special Saturday hours starting at many Taxpayer Assistance Centers to help people during this filing season. Learn more at www.irs.gov/saturdayhours
Several #IRS Taxpayer Assistance Centers will provide in-person help on certain Saturdays from 9 a.m. to 4 p.m. See: www.irs.gov/saturdayhours
People can receive walk-in help at several #IRS Taxpayer Assistance Centers open on certain Saturdays. No appointments are required. www.irs.gov/saturdayhours
#IRS is doing everything to help taxpayers during this filing season, including opening on certain Saturdays for face-to-face assistance. See details at www.irs.gov/saturdayhours
#IRS will be opening several Taxpayer Assistance Centers for special Saturday hours to provide help to taxpayers. www.irs.gov/saturdayhours
The IRS will open on certain Saturdays between January and May
2023 to provide in-person help without an appointment.
What To Bring:
Current Government Issued Photo ID
Taxpayer Identification Number, such as Social Security numbers
Any Letters or Notices Received and Requested Documents
To request identity verification services, bring two forms of identification and a copy or a
digital image of the tax return in question, if one was filed
IRS Staff May Also Request:
A current mailing address
Proof of bank account information that you included on your tax return to receive payments
or refunds by Direct Deposit
El IRS abrirá ciertos sábados entre enero y mayo de 2023, para
proporcionar ayuda en persona sin cita.
Lo que debe traer:
ID con foto vigente emitida por el gobierno
Número de identificación del contribuyente, tal como su número de Seguro Social
Cualquier carta o aviso recibido y los documentos solicitados
Para solicitar los servicios de verificación de identidad, traiga dos formas de identificación y
una copia o una imagen digital de la planilla de contribución en cuestión, si se radicó una.
El personal del IRS también puede solicitar:
Una dirección postal actual
Comprobante de la información de la cuenta bancaria que incluyó en su declaración de
impuestos, para recibir pagos o reembolsos por Depósito Directo